Here is my selection of 10 incredible tree houses that we've seen from all around the world, ranging from the ecologically-designed to the extravagantly designed.
Many of these are built atop trees, or even built directly into the trees themselves to keep them secured, or a house with a tree inside it? Many of these on this list can be rented out as a property for holidays, or found on AirBnB for those who wish to have an new view of scenery whilst being deep in it.

TreeTops TreeHouse, Devon
In the grounds of the Fox & Hounds Country Hotel is a 250-year-old oak tree that features a tree house of immense proportions.
The owners of the property have made the most of the canopy's space to install a series of rooms that work their way in between and around the unique shape of the tree's branches. For a tree house of this size, it puts it to great use by having a living room, kitchen, and a bedroom with a king-size bed, as well as a bathroom with large copper bathtub.
We can only imagine how lovely it would be to settle ourselves in a nice warm bath, and look out amongst the trees to watch snow fall. Given the vast layout of the property, it makes for a great place to have a romantic get-away especially with the hotel's spa and bar just outside the property.


The Treehouse Salcombe, Devon
An ideal romantic getaway tucked away in the spectacular Horsecombe Valley that looks out onto Horsecombe Farm's properties (they have Dartmoor ponies!), Batson Creek and Salcombe Estuary as well from within the seating area.
This location offers an ideal getaway as it is situated in a 3.5-acre field. Not only does the treehouse offer a luxurious view, the inside is kept cosy and well designed, with the lounge, kitchen, and bed within arms reach of one another (cold winter and being able to fall straight into bed sound like a good idea to anyone else?).
As a finishing touch to the property, the tree house even features a shingled roof, which frames it off perfectly. For those who love to make smores, or have a BBQ and watch the stars go by, there is also a cast iron fire pit to allow this.
Seems the South-West UK has a lot of amazing tree houses, and this one is no exception. The Sparrow House offers a design that calls out to a wonderful fantasy-like sense of style, blending Hobbit and Wood-Elf inspiration together to create a cosy, close to nature home that has a mystical charm about it.
The Sparrow House offers a design that calls out to a wonderful fantasy-like sense of style, blending Hobbit and Wood-Elf inspiration together to create a cosy, close to nature home that has a mystical charm about it.
This cosy two story property offers a downstairs living-room and kitchen in one with the upstairs dedicated to being a bedroom, draped with sheets from the walls and adorned with lights, offering a soft and comfortable atmosphere with a window at the head of the bed, ideal for watching the world go by.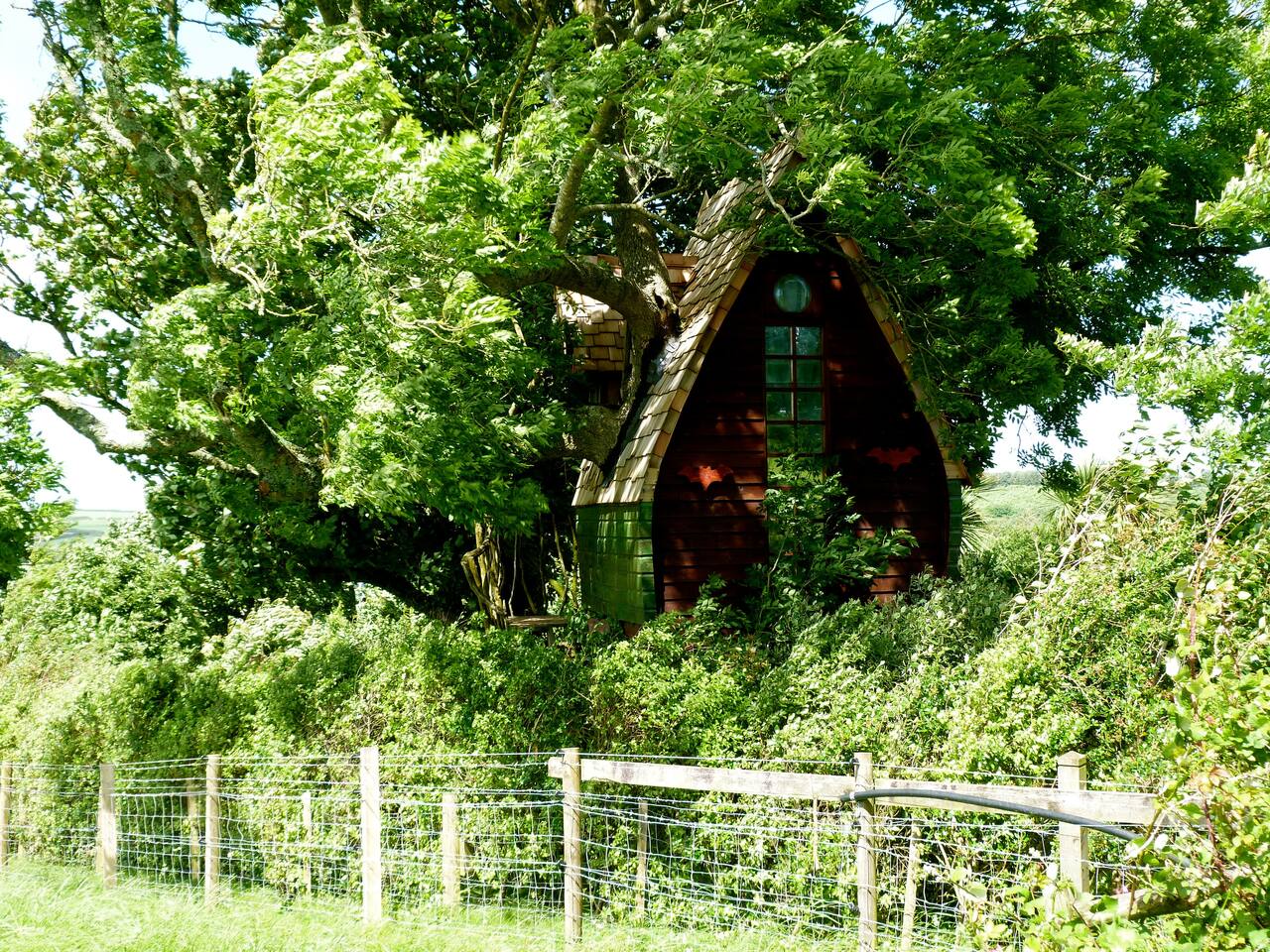 Mirror Cube Treehouse, Harads, Sweden
Quite possibly one of the most unusual treehouses we have seen, a simple 4 x 5 x 4-metre cube composed of mirrored surfaces that given an utterly unique and mind-boggling appearance.
Ideal for two people, there is a lounge, bathroom, and double bed within, as well as an on-site shower and sauna in the grounds.The mirror cube even comes with a
The mirror cube even comes with a rooftop terrace, offering an incredible viewpoint, though the thought of people standing on what looks to be a giant floating mirrored cube must be mind-boggling and utterly amazing!
The inside is a clean plywood construction that offers a minimal design that fits the external aesthetic of the room with a series of windows that offer ideal lookouts.
Designed by Antony Gibbon, these tree houses offer a unique take on the treehouse with a design that was intended to make something that looks as it if could be a part of the tree itself.
Each pod is fixed to the tree, or if not possible a large central column can be installed instead, which does no damage to the tree nor stunts its growth. The pods offer a tapered, curvy design with one featuring a spiral staircase within whilst the other two attached pods contain 2-person bedroom pods in each.
There is an additional staircase within each pod that leads to a rooftop platform for which you can look out into the forest canopy and admire the view, making such ideal for watching a sunrise or sunset.



Teahouse Tetsu, Hokuto City, Japan
This has to be my personal favourite, as soon as I saw it I fell in love immediately!
Designed by Terunobu Fujimori for the Kiyoharu Shirakaba Museum, this house was designed with one intention in mind: to admire the cherry blossoms in full bloom (also known as Hanami for viewing Sakura which cherry blossom, and Umemi for those who admire peach blossom instead). With a distinctly fantasy appearance that reminds us of Studio Ghibli's
With a distinctly fantasy appearance that reminds us of Studio Ghibli's incredible, and unusual designs it looks exceptional amongst the tree-line that looks like something from stories of folklore.
Even with the unusual appearance, and one-legged designed, the tree house is strong enough to withstand stormy weather and earthquakes.
If I end up going on Holiday during Spring, you'll probably find me settled here.

Horace Burgess Treehouse, Crossville, Tennessee
The tallest tree house is the world is an utter marvel to behold. Minister Horace Burgess built his tree house as a testament to God, which he has been doing for over 11 years. 
Standing at 100ft tall this five-story tree house even features its own Church and Bells which is pretty impressive! There are over 80 rooms in the property, including secret passages, and a tower that offers a spectacular view of the flower garden. Unfortunately, the property is closed at this time, but it is an utter marvel nonetheless.
Unfortunately, the property is closed at this time, but it is an utter marvel nonetheless.


Yellow Treehouse Restaurant, Auckland, New Zealand
A very unique and unusual tree house that was originally created for a Yellow Pages advert and that everything should be sourced through Yellow Pages to create the tree house, fantastic concept and a great piece of marketing!
With a circular pod-like design which features a split in the pattern so that diners can witness a spectacular view of the forest around them.
A fully functioning kitchen has been installed with seating for 18 people within, looking out onto a panoramic view with lighted platforms and walkways around the building that offer an almost surreal depiction.
For me, this combination of a tree house and restaurant is an instant winner, though...hope it's easy to get down after all that food?

Gwdy Hw, Powys, Wales
This list wouldn't be complete without a nice spot in the Welsh countryside, especially the perfectly picturesque Powys.
Set 30 ft off the ground in a spectacular woodland that is often covered in bluebells (really, it's an incredible sight to see), with six tree houses hidden in this Valley.
The treehouses have a spectacular spiral staircase leading up to the terrace. Inside there is a living and dining space with a kitchen, featuring a wood-burner in the centre.
Back down on Earth, there is a spring water shower, and a wide variety of walking trails, streams, and mountain paths to enjoy, at the end of one of the trails there is a pub for a well deserved drink and a lovely meal.
If you want to sit back, relax and enjoy nature, what an ideal location with all the comforts.

Temple Of The Blue Moon, Isaquahh, Washington
For that deep in the forest vibe, The Temple of the Moon offers a stunning location reached by a suspended bridge before the wonderful tree house cottage that is cosy, elegant, and yet another ideal for couples wanting to get away and enjoy some well-deserved peace in nature.
The cottage is part of six properties on Treehouse Point's grounds, featuring a variety of unique designs as well as a pond and bath room, as well as a dedicated bath house, making it an ideal getaway to experience vast woods, unusual architecture and the great American outdoors.