Games and geekery have expanded into not just being a part of the home, but becoming a part of the house, with more and more people dedicating entire rooms to their game collections, space to play or just adorning their rooms with gaming decor, it has truly became a wonderful space to experience. Here is a selection of five of our favourite gaming rooms.

StopXWhispering's Game Room
According to StopXWhispering, her game collection has now reached over 6000 pieces and 260 consoles, complete with arcade-style cabinets, consoles set up to a myriad of televisions and lined with collectables. With how the room has been arranged with display cabinets full of rare items, well-preserved games and more, it feels like a monument to old-school gaming that it is rather outstanding to see it all in once. We honestly think we have lost Matt to it, he's been babbling about some of the rarer pieces on display.


Tetris Room
Whilst this is not your typical gaming room, it is certainly full of geeky goodness thanks to a vinyl wall decal featuring a number of falling Tetris blocks or "Tetronimoes" creating the famous game-scape we all know. This accent wall is a wonderful geeky subtlety that can be passed off as a modern design to complement an equally modern room, whilst able to add your own flair to it.


l337lauren's "Co-Up Buddies For Life Battlestations"
Lauren and Clifford have made quite possibly the cosiest the gaming room we have seen, complete with his and her's battle stations to game at, complete with a double TV mount, a controller station at their respective ends of the couch, all of which is surrounded by a variety of geeky collectables and more. Their home has been decorated with a variety of game art, previous industry work as well as gaming prop replicas set placed on framed plaques which are a wonderful touch.
Basement Videogame and pool Room
A simple and elegant room that has a clean modern aesthetical which brings us back to the ever-loved idea as a child of having a basement room to make our own to play games in. With a large sofa and a projector, it gives a wonderful open space from which to create a large display on. Further topped off with a pool table as a finishing touch, we love its simplicity and elegance.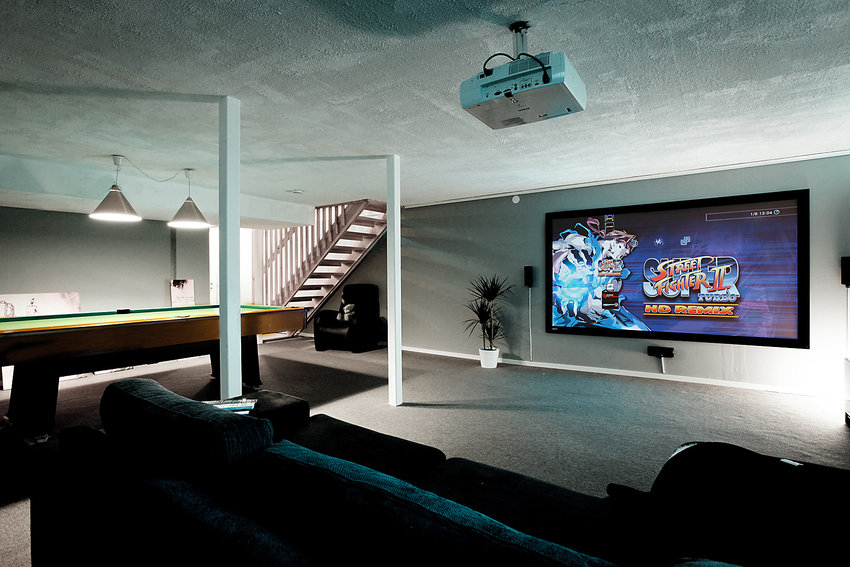 The Portal Bedroom
Based on the marvellous game Portal, one fan took it upon herself to create a bedroom complete with orange and blue infinity mirror 'Portals' and an industrial design to mimic the feel of the Aperture Science Laboratories. Lauren's design features a variety of elements from the games including the pressure switch's dotted light lines, two portal guns and a number of posters from the game to top it off.


We're going to have to give the GlaDOS lamp an honourable mention here, as well.