Our Top Espresso Cups for that extra boost of style!
Who doesn't love an extra bit of flair and style in their homeware, especially in their mugs, cups and fine china? Whilst I'm a firm lover of tea, and everything to do with it, I'm a bit susceptible to the incredible designs there are for espresso cups.
So, here are his top espresso cups whilst he tries to stop referring to himself in second-person and drinking a cup of earl grey.


Arko 2 by Solomiasolomia
Its curvaceous, sleek and elegant, yet its block, stark, and well defined. Quite possibly one of the more unique designs we've come across, almost like a loving blend of Elvish and Dwarven designs to create this exceptional mug.
No matter what position it is placed on, it is utterly splendid to look at and really does stand out. The Arko collection further expands into bowls, cups which we highly recommend looking at.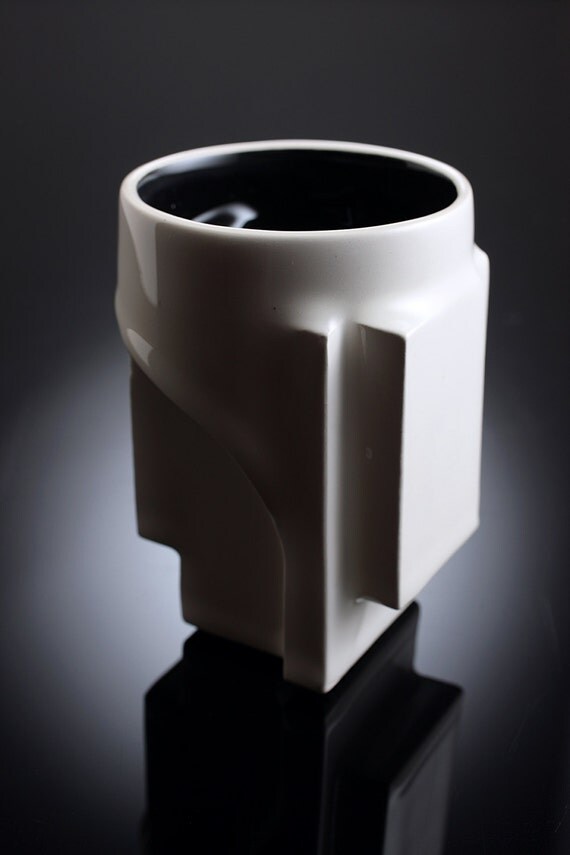 Le Creuset Rainbow Espresso Mugs
Le Creuset once again provides and outstanding product that also looks incredible, with the bright collection of 6 coloured mugs within this collection, it looks great in use, as well as being displayed on a shelf in one's kitchen.
These mugs are both oven and microwave safe, which make them idea for those who like their sweets, especially for chocolate mousses or the ever-satisfying brownie in a mug.


The Double Shot Glass Mug
An utterly clean, elegant and simple design that allows for an espresso shot, or a cup of coffee to be made in one mug.
By keeping the mug in its typical position, the glass mug can be used as per the norm, but if you turned the mug upside down there is a concave recession in the base where an espresso shot can go. Simple. Effective. Pretty.
Smoke Fired Slip Cast Espresso Cup by BACeramicsandglass
An usual addition that adds utterly unique charms to one's homeware. This sculpted cup has been adorned with a variety of lines, patterns and textures over the surface of the cup from how it has been cast in a light grey-ish ceramic. 
The patterns really come to life from the smoke firing which has produced carbon markings over the surface of the cup during firing, trapping the blackened coating in utterly unique patterns.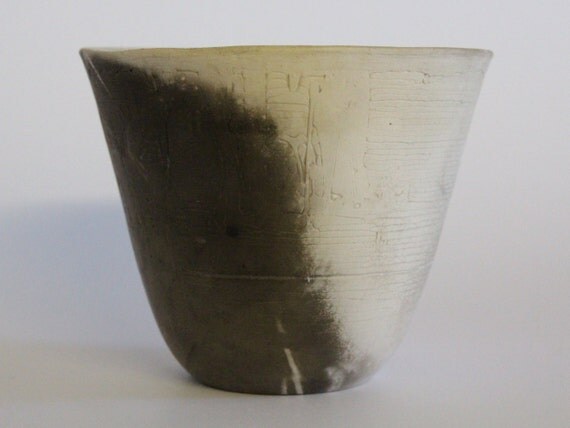 Platinum Twig Cup by KinaCeramics
Kina Ceramics offer such elegantly simple designs, with the pure white bone china base cast in an partial orb like mug, it makes for a wonderful espresso mug. 
With the further adornment of a silver colour twig pattern made from platinum, it adds an incredibly stylish finish to the image, and also you have the extravagance of platinum in your homeware.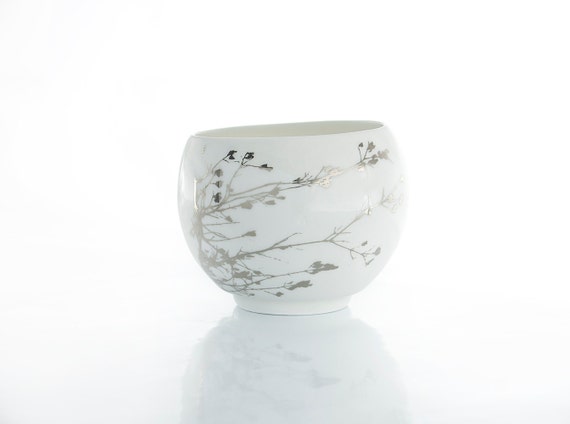 Black Gold Rimmed Espresso Cup by KinaCeramics
Yet another gorgeous design by Kina Ceramics. This cup is cast in the same shape as the previous mug, but in a matted black finish that lends to the texture of the ceramic making it an already delightful piece. 
This is further enhanced with the embellishment of real gold that is carefully hand-painted onto the rim of the mug, given further opulent splendor to your homeware.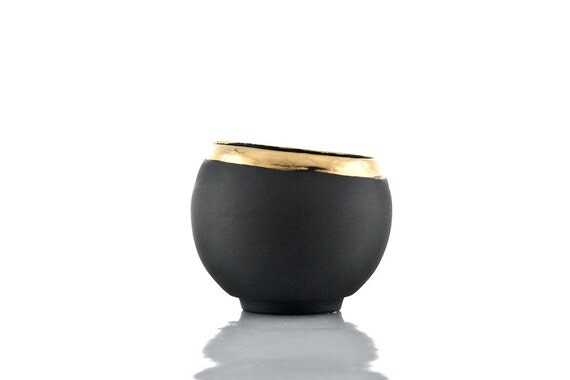 Pear Espresso Cups by Yuko Nishikawa
A elegant and simple design of pear shaped cups that are hand-thrown and finished with dark brown manganese speckles which offer a unique pattern to each mug and sauce set.
These are given a food-safe egg-shell smooth finish that gives a long lasting finish.

MENO Espresso Cup by notNeutral 
notNeutral's MENO line offer a stunning two-tone espresso cup and saucer set that shares the same designs of their LINO line, however, this features a handle-less design which grants a further sense of elegance to the piece.
The matte black finish gives a slightly more grippy finish to it that contrasts beautifully against the white internal colouring.